Hi this is ZipLaw! This is our Roundup Newsletter where we run through all the top news stories of this past week and explain how they impact law firms.
In this week's roundup we're covering:
Amazon's FTC monopoly trouble
Meta pays £149M to end office lease
UK exporters face trouble with EU Carbon Tax
What's up with the IPO market?
One must-know stock market trend
---
Amazon's monopoly trouble
In Short:
The US Federal Trade Commission (FTC) is throwing some shade at Amazon, accusing it of monopolistic behaviour and not playing nice with competitors.
Here's all you need to know.
1. What is the FTC accusing Amazon of doing?
The FTC claims that Amazon:
forces sellers on its platform to exclusively use its logistics and delivery services if they want their products to be prominently displayed; and
penalizes merchants who offer their products at lower prices on rival platforms, effectively stifling competition and ensuring that Amazon remains the dominant player in the online retail space.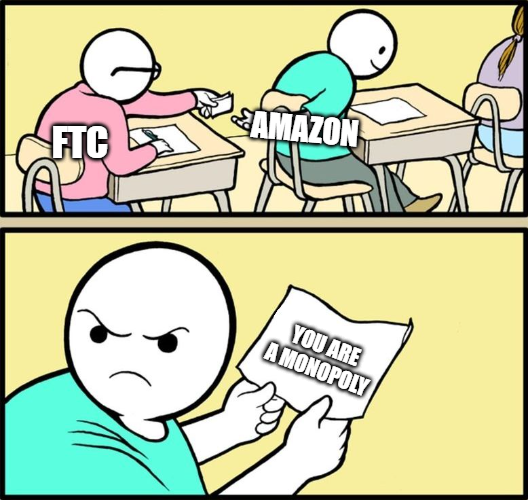 2. Amazon's Defence:
Amazon's response? They're the good guys here. According to them, their practices have spurred competition, led to a wider selection for customers, and made deliveries faster. It's like the kid who brings the best toys to the playground and says, "Hey, I made playtime better for everyone. If you take my toys away, its going to be a lot less fun."
3. Broader Market Implications:
If the FTC gets its way, the ripple effects could be massive. Other big tech companies might be walking on eggshells, fearing they'll be the next in line for scrutiny.
For sellers, it could mean a reshuffling of the online marketplace deck. Maybe they'll get more freedom to set prices across platforms, or perhaps they'll face a new set of challenges. And for shoppers? It could mean price changes, different buying options, or even a shift in how we shop online.
Meanwhile, in the UK, the Competition and Markets Authority (CMA) is also giving Amazon a little side-eye, looking into how they might be using secret data from third-party sellers for their own retail gains in the UK.
They're also curious about how Amazon picks who gets the golden ticket to the featured 'Buy Box' (allowing users one click options to buy the products) and which sellers get to use the 'Prime' label on their products.
⚖️ How does this impact Law Firms?

1. Antitrust and Competition:
Market Dominance Analysis: Lawyers in this department will be tasked with conducting in-depth analyses to determine whether Amazon's actions constitute an abuse of a dominant position in the online marketplace. This will involve reviewing Amazon's business practices, agreements with sellers, and its overall market share.
Defence in Antitrust Litigations: Given the FTC's accusations, antitrust lawyers will be at the forefront, defending Amazon's business model and practices. They'll argue the company's position, challenging the FTC's interpretations and ensuring that Amazon's actions are seen as competitive rather than monopolistic.
2. Commercial: