Hi ZipLawyer! I'm Ludo Lugnani and this is ZipLaw: an independent newsletter covering the best commercial and legal news from the day. We explain how each story impacts law firms and their clients so that you can stand out in interviews and applications.
First time reading? Subscribe here!
Today's newsletter is a ~7 min read:
🚫 Chip Blockade: The US blocking China's semiconductor industry
➕ Plus: Inflation dips, SBF arrested, strikes continue and EU considers new tariffs.
🤿 Deep Dive
Chip Blockade
In brief:
The US, Japan and the Netherlands are putting in place a blockade to cut off China from the global semiconductor market.
This move is part of the US effort to become the leader in the industry, whilst weakening its key rival.
What's going on?
Japan and the Netherlands have agreed to join the US in tightening controls over the export of advanced chipmaking machinery to China. As part of this, they will adopt some of the restrictions announced by the US in October (see below).
The bans will apply to the sale of machinery capable of fabricating 14-nanometer or more advanced chips to China. The 14nm technology is at least three generations behind the latest available on the market, but it is the second-best technology that China's chipmaking champion Semiconductor Manufacturing owns.
In a further blow to China's semiconductor industry, the Biden administration announced plans to put more than 30 other Chinese companies on a trade blacklist that would prevent them from buying certain US components.

Growing tensions and restrictions
It's no secret that the US and China haven't been getting on much lately. Tensions have been rising as the US unleashed its new export control restrictions.
On 7 October, the US Department of Commerce released new rules which prohibit US companies from exporting to China the technology, software, and equipment used in producing advanced computing chips and supercomputers.
The US measures include restrictions on the export of some types of chips used in artificial intelligence and supercomputing, and also tighter rules on the sale of semiconductor equipment to any Chinese company.
Is all this a big problem for China?
It's quite a big problem. The three-country alliance will act as a blockade of China's ability to buy the equipment necessary to make leading-edge chips. Match that with the US restrictions mentioned above and that creates a pretty big problem for China.
However, for such a blockade to stay in place the US needs to ensure other technology leaders (namely Japan and the Netherlands) are on board. Getting them there hasn't been easy. Dutch and Japanese companies aren't keen on losing out on an important market, but they have to make a choice and the US seems like the stronger option in the long run.
With access cut off, China will not only lose out on buying foreign equipment but any chance of developing the underlying technology needed to catch up.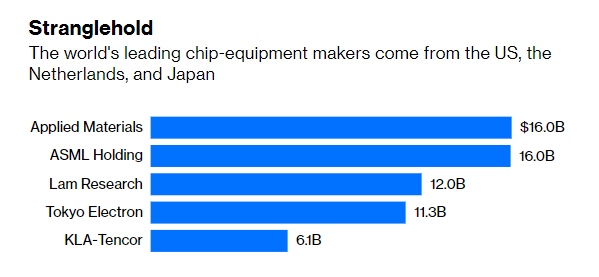 Credit: Bloomberg
How does this impact law firms?
💼 Law Firm Clients
Last month, we discussed how the US export controls were actually hindering US chip companies by requiring them to secure approval from the US Commerce Department to sell certain products in China. This used to cut their sales and put them at a disadvantage with their competitors who were not subject to such controls.
So having key producers like Japan's Tokyo Electron and Dutch ASML brought under the restrictions is ultimately good news for US producers as it levels the playing field.
Clients operating in the production of chips and semiconductors will be keen not to fall foul of the export controls. Just today, we saw Arm (one of the top chip producers) refuse to sell its latest Neoverse V series to Alibaba. The reason? Arm felt that the US and UK would not approve the sale because the performance was too high. This will become increasingly common, and despite China being a top buyer of these products (see chart below), companies will need to avoid the risk and move into new markets.
⚖ Busy Legal Departments?
Commercial
Supply contracts are crucial to companies in this industry. Most producers work on large volume orders, and need to ensure their contracts are in order to receive payment when needed.
Failure to do so could harm not only their present orders, but also their ability to deliver future ones due to a low cash flow to fund the purchases of materials needed for production of microchips.
Commercial lawyers will be heavily negotiating these contracts especially in light of the current market's uncertainty. Many of these contracts will include clauses to deal with the US trade restrictions, and on how to deal with any failure to comply.
Regulatory and Competition
This is quite a broad category, but I would include here any work covering the evolving US (+ Japan and Netherlands) restrictions on sales of chips to China.
This may bring many changes to the law, and the restrictions they impose on microchip suppliers who will be keen to take legal advice on how to stay on the compliant side of the restrictions.
This type of legal work will be particularly relevant when negotiating supplier contracts and reviewing older ones to ensure they do not fall foul of new restrictions.
These lawyers may also be involved in contentious matters based on the trade restrictions. For example, on Monday China filed a dispute over the US export controls with the World Trade Organization, saying the restrictions threaten the stability of the global supply chain and America's national-security justification is dubious.
Intellectual Property
This is an industry which deals with cutting-edge technology. Therefore, intellectual property rights become crucial to protecting a companies' market share, by securing their production processes and designs from their competitors.
For example, ASML has a virtual monopoly on a type of machine needed to make the most advanced chips (these are known as lithography systems).
Law firms will be asked to continually review these companies' IP rights and protect any new ones arising from their work. Patents and Design rights will be of particular importance here, and they will need to be adequately covered off in any supplier contracts to avoid ownership accidentally passing over to other parties.
Corporate
Corporate lawyers will be advising on deals involving investment by semiconductor manufacturers in different locations e.g. the US.
We've already seen the Taiwan Semiconductor Manufacturing Company (TSMC) triple its investment in the US state of Arizona to $40bn to diversify its production facilities among the growing tensions between the US and China.
Corporate lawyers will also advise on issues in foreign investment into semiconductor producers. For example, in the UK issues could arise in the context of the National Security and Investment Act which grants the government the power to block certain acquisitions that could harm the UK's national security. These usually cover deals in certain sensitive areas such as Artificial Intelligence, Computing Hardware, and Data Infrastructure that could be very relevant in the context of social media platforms.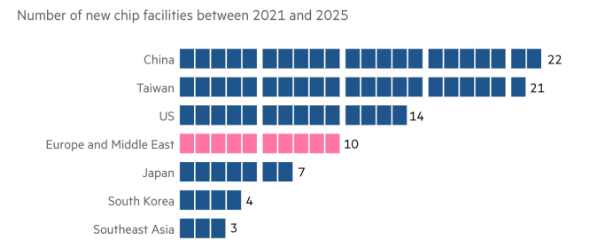 Credit: FT
🔮 Trends and Looking ahead
The feeling in the industry is that China's production will slow down as it struggles to handle the US blockade. This will harm its local production and potentially lead to a slowdown in sales of products to China as the country re-evaluates its options in this sector.
With Japan and the Netherlands coming on board, the extent of the US export controls will become more pervasive in the global economy. This means that clients in this sector, or with any dealings with companies operating in it will become increasingly concerned about avoiding the risks of failing to meet the export controls. In short, no one wants to fall foul of the US export controls and get fined or excluded from the market.
Another key trend to keep an eye on is the diversification of production around the world. As mentioned, we have seen TSMC triple its investment in Arizona to $40bn. A move like this from the world's largest contract chipmaker will probably be followed by other producers who give in to geopolitical tensions and pressure from customers.
📰 News Spotlight
📉 Inflation is falling?
UK inflation dipped to 10.7% in November as an easing in the rise in petrol prices helped to lower the rate from a 41-year high of 11.1% last month. The figure was better than an expected 10.9% leading some analysts to think inflation may have peaked. Meanwhile, the US core consumer-price index, a measure of inflation excluding food and energy costs, rose by just 0.2%.
👮 SBF
Federal prosecutors in New York charged Sam Bankman-Fried, the former chief of FTX, with eight crimes, including wire fraud and money laundering. Those are in addition to previous civil fraud charges. At a congressional hearing John Ray, the new boss of the crypto exchange said his predecessor presided over "old-fashioned embezzlement". Mr Bankman-Fried was denied bail and could face life behind bars.
🇬🇧 Strikes Continue
The wave of strikes is getting stronger. Today, Royal Mail workers go on strike alongside rail industry staff over pay and employment terms. The first nationwide strike by NHS nurses organised by the Royal College of Nursing is due to go ahead tomorrow over pay.
🇪🇺 Time for Tariffs
The EU is closing in on an agreement to tax imports produced by countries with weaker emissions standards. The tariff has not been finalised, but will probably be implemented starting next October. It has caused some mixed reactions but some other countries like the UK and Canada are considering similar steps.
❤️ Enjoy this newsletter?
🙏 Our work is entirely reader supported. Please subscribe!
📫 Forward this to a friend and let them know where they can subscribe (hint: it's here).
🙋 Have a question? Just hit reply to this email - it goes straight to my inbox!
📣 Share Us on Twitter here, Facebook here, or LinkedIn here.